YSS Delhi Kendra has been engaged in varied charitable activities and relief work over the last few decades. Annual blood donation camps, medical camps, support to leprosy colonies, homeopathic and dental clinics – are some of the areas where Delhi Kendra has provided support to the underprivileged with the aid of volunteers.
In its latest initiative, a charitable dental clinic has been set up at the Delhi Kendra to provide free dental check-up and treatment to the underprivileged.
Charitable Dental Clinic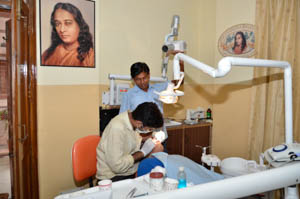 This service was inaugurated by Swami Smarananandaji on January 9, 2016 in the presence of Swamis Nityanandaji, Ishwaranandaji and Vasudevanandaji. Operating thrice a week – on Monday, Wednesday and Saturday – this clinic is run with the help of volunteer services provided by qualified practicing dentists.
To educate and motivate people about dental hygiene and importance of timely and proper dental care and treatment, a camp was organised in the slums behind the Kendra ahead of the inauguration of the clinic.
The air-conditioned dental clinic is well-equipped with a modern electronic dental chair, an X-ray machine, an LED light cure unit, an ultrasonic scaler, rotary endodontic instruments and sterilisation equipment. The clinic has.
Timings: 4 to 6 pm in winters and 5 to 7 pm in summers
Days: Mondays, Wednesdays and Saturdays